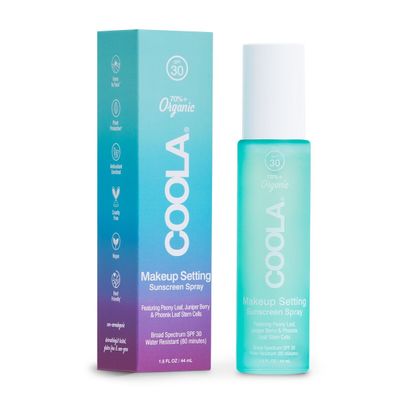 Coola - Make Up Setting Spray - SPF 30
Coola
$65.00
or 4 interest free payments of $16.25 with
learn more
Makeup meltdown and UV exposure have met their match! Introducing the first ever SPF 30 Makeup Setting Spray. A simple spritz of our weightless, matte finish mist protects the sensitive skin of your face while keeping your makeup looking fresh all day. This advanced formula includes Cucumber and Aloe Vera Extracts to help soothe and refresh skin while Hyaluronic Acid, known to bind moisture, helps to soften, tone and rehydrate skin. A powerhouse of Peony Leaf, Juniper Berry, and Phoenix Leaf Stem Cells reinforces the skin barrier and provides antioxidant protection. Set, restore and protect with confidence knowing our 70% + organic formula has you covered!
For use after makeup applications, touchups, and reapplications
Featuring Peony Leaf, Juniper Berry & Phoenix Leaf Stem Cells.
- No Touch/Rub Matte Finish Spray
- 70%+ Certified Organic Ingredients
- Formulated with Hyaluronic Acid
- Natural Green Tea & Aloe Scent
- Vegan Friendly
- Dermatologist Tested
- Gluten Free
Bouquet of Plant Stem CellsComplex of patented Plant Stem Cells formed to protect skin from free-radical scavengers and offer strong anti-oxidation protection. This powerful complex is designed to protect the epidermis, reinforce the skin barrier and limit dryness of skin.

Algae ExtractCommonly referred to as Seaweed. Used to hydrate, soften and detoxify the skin. Also replenishes essential vitamins and minerals.

Hyaluronic AcidNaturally found in the skin, hyaluronic acid binds and attracts water to maintain softness and suppleness. It attracts 50 times its weight in water to achieve excellent skin hydration. Minimises free radical damage and provides an optimal level of antioxidants, nutrients and vitamins for the skin.
SKU: 10000-5